La Garenne International School is a company established under Swiss law and registered in the canton of Vaud under the name La Garenne School SA.
The La Garenne Executive Team was established in 2015 by the owners in order to ensure and oversee the implementation of La Garenne strategic direction, establishing guidelines and regulations, ensuring stability in finance and upholding the school values and philosophy.
- Grégory Méan
General Director
Grégory Méan is the fourth child of the Méan Family, who grew up with school as his home. His wife, Céline, is a former student of the school. Grégory graduated from the Hotel Management School in Lausanne in 2003 (EHL). Having gained experience in various hotels around the globe, he returned to Villars to take up the new challenge of Assistant Director of a hotel in Villars. In 2008, he was thrilled to take over La Garenne with the aim of becoming one of the leading primary schools in the world. To this end, he has followed many courses and strives to ensure the school is at the forefront of educational and pastoral development.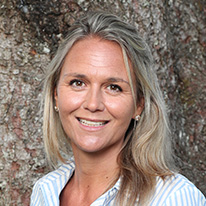 - Danielle Allard
Head of Primary
Since arriving at La Garenne in 2008, Danielle has implemented and developed the Curriculum and Assessment within the Primary Section, introduced the Cambridge English Qualifications and led the Academic Summer Camp Programme. Danielle previously taught in the South of England and often travels abroad to visit schools and attend leadership workshops. Danielle continues to take on an active role teaching and supporting the children in class and she works closely with the primary teaching staff to strive to give each child the confidence to reach their full potential, celebrating the children's success. A rewarding feature of Danielle`s job is to get to know the families at La Garenne and work in partnership with them to support the learning and development of the children.
- Derek Lineham
Head Teacher
Derek joined our school in April 2016 as Head Teacher. Derek works closely with teaching staff, to spearhead future development of teaching and learning throughout the school. Mr. Lineham has over thirty years' experience in international boarding education. He holds a Master's Degree in Educational Management and is also an experienced leader of accreditation teams for the Council of International Schools (CIS). Originally a teacher and House Parent, he then became Academic Director and finally Headmaster of an international boarding school in Villars (Collège Alpin International Beau Soleil). Even as a school leader, Derek has always been an active classroom teacher, constantly reinforcing his knowledge and experience of modern teaching methodology and pedagogy. His overriding goal, in close collaboration with all the team, is to guarantee the personal and academic growth of each individual student at La Garenne.
- Alexey Filatov
Head of Finances and IT
Prior to joining the Board of La Garenne School, Alexey spent twelve years working on the accounts of the largest multinationals in the advertising, media consulting and audit sectors. He gained a Master of Science degree from Moscow State University and received his business education at Stockholm School of Economics and INSEAD. In 2015 Alexey completed an Executive MBA at IMD. In his current role, Alexey creates pragmatic financial solutions for the bold developments that La Garenne is implementing. He is also responsible for the development of IT infrastructure of the School.